Tuesday, November 01, 2005
thoughts...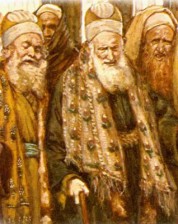 This morning i was reading in matthew 12, where Jesus and some of the disciples are walking around on the sabbath and they get hungry so they start picking some of the wheat and eat it. Then the pharisees see them and start saying how they are disobeying the sabbath day and 'harvesting' when they shouldn't be...and then they get mad at Jesus for healing someone on the sabbath as well, because you aren't supposed to be doing any 'work'.

And it got me thinking....

Who would i have been back then? Would i have been one of those pharisees, missing the total point of the sabbath? Would i have gotten mad at them for 'disobeying' the rule, just for the sake of keeping a rule?

I just don't know. I mean, i HOPE i wouldn't be like that...but what does this story translate to in modern day life? Then i am not so sure. Interesting to think about...
posted by jamie @ 9:44 PM

About Me
Name: jamie
Home: St. Catharines, Ontario, Canada
About Me: I am an American living in Ontario. I've just recently started going to school again for a BA in Human Services. I like mexican and indian food and watching tv way more than the average individual. I absolutely love talking to my parents on the phone and my brother is one of my best friends. I'm married to a great guy whose pretty much the exact opposite of me but he loves me and makes laugh and we have a lot of fun. I didn't always feel this way, but these days I'm feelin' pretty good. That's my life, welcome to chaos and order.
See my complete profile
for entertaining
for watching
for reading
for contemplating the recent past
for contemplating the past
for finding things
for pushing buttons
for making money